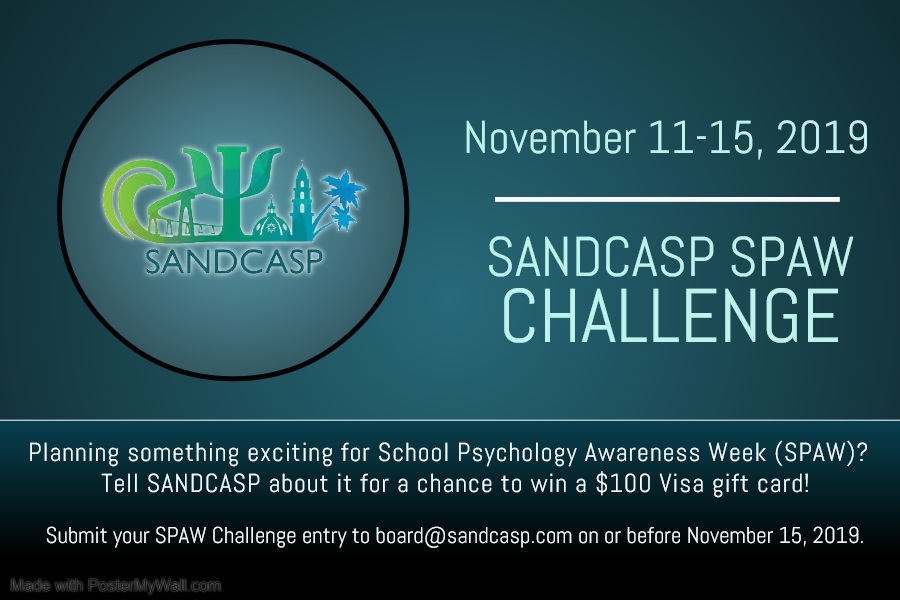 Each year SANDCASP celebrates SPAW with a challenge! Once again, this year, SANDCASP will be awarding the winner of the SANDCASP SPAW Challenge with a $100 Visa Gift Card! So, put your creative hats on and start thinking about what you can do to create awareness for our profession!
During or after SPAW, send a description along with some photos of your SPAW activities to SANDCASP to enter to win the prize. The SANDCASP Board will select the most creative idea with the widest reach that directly creates awareness of school psychology. All submissions should be received by board@sandcasp.com no later than 11:59PM on November 15, 2018. Note: You must be a SANDCASP Member to win.
Past submissions have included presentations, posters, videos, and placing documents and/or activities in staff mailboxes each day of SPAW.
Just a reminder: This year's SPAW theme is "

Find Your Focus

," which can have a variety of meanings such as paying attention, being able to see an idea more clearly, identifying an area of interest, or being persistent and determined in one's effort. Focusing can help us set goals, identify action steps, communicate needs, and engage in discussions that help create the connections necessary for students to develop critical academic and social emotional skills.